Jeff Dykes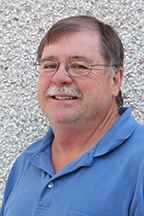 Office: NCL 316, Omak campus
Phone: 509.422.7876
E-mail: jdykes@wvc.edu
A.A., Wenatchee Valley College
B.S., Paramedics, Central Washington University
B.S., M.S., Microbiology and Forest Resources, University of Washington
Jeff Dykes worked as a part-time instructor at WVC at Omak for 23 years before being hired as a full-time science faculty member in 2016. Dykes has also taught at Charter Oak State College, Grays Harbor and Garrett College. He is a WVC alumnus.
Dykes is the adviser for the science club at the Omak campus. He has assisted club members in planting a vineyard in the Omak campus greenhouse, establishing an outdoor garden with automated water system, and traveling to Mt. Saint Helens to view the volcano via helicopter and learn about the 1980 eruption.
In the Biology 211 class that Dykes teaches, he has taught students how to submit DNA barcode sequences to GenBank, a government database.