About Rachel Evey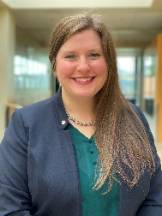 After graduating from University of California, Davis, with degrees in international relations and Italian, Rachel Evey returned to her hometown of Bakersfield, California, to start her career in the nonprofit industry. After five years at Kern Community Foundation in a variety of donor development and stewardship roles, Rachel relocated to Wenatchee in 2017 to join the Wenatchee Valley College Foundation team.
Rachel is currently the Executive Director of the Wenatchee Valley College Foundation. She is committed to fulfilling the foundation's mission to assist the college in achieving its goals through cultivating friends and garnering financial support.
Involved in a number of organizations, Rachel is a member of the NCW Estate Planning Council, the Women's Service League of NCW, Wenatchee Rotary, and is a lifetime member of the Cal Aggie Alumni Association.