Career Services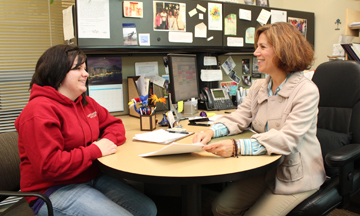 Have you ever wondered, What Can I Do With This Major? If so, you may want to check out the Wenatchee Valley College Career Center. We're open to students and the general public and offer a broad range of information and assistance including:
job and career exploration
education/training requirements
job hunting techniques
employment opportunities
internship and mentorship information
work experience
career assessments for determining your career pathway
Our resources include software programs for careers/training/employment, videos for select occupations, Internet sites for career exploration and job searches, and printed material on specific jobs, resumé writing and job seeking tips. We help you one-on-one as your explore your options or get help with your job search!
Employers may post jobs on the Career Center Job Board (call or e-mail) or post to the Center's online service at College Central (see "For Employers/Alumni link). Students may post their resumés online or search job postings at the same website by clicking on the "For Students" link.
Need a resumé or cover letter? Come to the Career Center for assistance.
Hours
Monday - Friday
8:30 AM - 5:00 PM*

Walk-ins
Mondays
9 AM - 12 PM (Amy)
Tuesdays
12:30 PM- 2:30 PM (Randy)
Wednesday
1 PM - 4 PM (Amy)
Thursdays
12:30 PM to 2:30 PM (Randy)
*Appointments recommended
Appointments
To schedule an appointment call:

Amy Olson, (509) 682-6579
Randy Mitchell, (509) 682-6858
or visit the Testing Center, Wenatchi Hall, first floor, (509) 682-6830
Location
WVC - Wenatchee Campus
Wenatchi Hall, rooms 2128 & 2130