Dan Stephens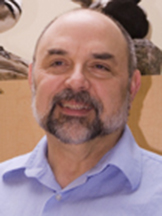 Office: Wenatchi Hall 2328
Phone: 509.682.6752
E-mail: dstephens@wvc.edu
Website: http://commons.wvc.edu/dstephens/Welcome/Home.aspx

Education:
B.S., Biology, Boise State University
M.S., Biology, Central Washington University
D.A., Biology Education, Idaho State University
Awards:
WVC Linda Schultz Herzog Outstanding Faculty of the Year Award, 2003
Dan Stephens joined WVC in 1990, where he has co-taught in two learning communities, Northwest Nature Writing, and Form and Function: Integrating Art and Ornithology Northwest Environments. He teaches courses such as General Biology, Biology of Plants and Environmental Science.
Stephens presented "The Birds of Wenatchee Confluence Park: A Pictorial Tour" during the second annual WVC Speaks Lecture Series in 2016-17.
He is the adviser for the Wenatchee campus honor society, Phi Theta Kappa.
His areas of professional interest include interdisciplinary learning involving biology and the humanities; avian ecology, especially restoration ecology in riparian zones; and biology education. His hobbies include bird watching, gardening, photography, waterfowl hunting and retriever training.