MAC Gallery
The MAC Gallery is able to display artwork by faculty, students, and professional guest artists thanks to generous support from grants and community members. With your donation, the gallery can continue bringing exhibits and cultural events to WVC and our community.
Current Exhibit
Abbey Freed:
sweet spot
Oct. 5-26, 2018
First Friday Opening Reception: Oct. 5, 5-7 p.m.
Gallery Hours: 9 a.m. to 5 p.m., Monday - Friday
The MAC Gallery is proud to exhibit WVC alumna Abbey Freed's captivating installation of sculptures and wall pieces dealing with the preservation, possession, and memorialization of human existence. Using quotidian materials, she transforms seemingly banal domestic objects into moving expressions of life and loss.
Artist's bio: Abbey Freed is a multidisciplinary artist living and working in Wenatchee Washington. She obtained her BFA from Montana State University with a focus in sculpture and painting. Freed's work explores varying manifestations of loss and how we come to know them by investigating certain prevailing cultural attitudes towards preservation, possession, and memorialization of human existence. Through the alteration and replication of seemingly banal domestic objects her work explores the paradoxical psychic results produced from a drive to entrust the things we stockpile with existential significance. Perhaps in hopes of protecting the past, possessing the present, or to gain a sense of protection from any future loss—these attempts ultimately impede upon full engagement with grief and life, only further compounding the loss itself.
The MAC Gallery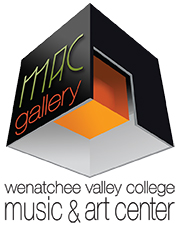 The MAC Gallery hosts a yearly series of high quality and thought provoking exhibitions of contemporary art by faculty, exceptional students, and invited professional guest artists from around the region. The carefully curated exhibitions and associated events enhance the instruction of the art department and work toward WVC's mission to provide important cultural opportunities for the community.