MAC Gallery
The MAC Gallery is able to display artwork by faculty, students, and professional guest artists thanks to generous support from grants and community members. With your donation, the gallery can continue bringing exhibits and cultural events to WVC and our community.
Current Exhibit

ReStructured: A Site-Specific Collaboration by Scott Bailey, Natalie Dotzauer, and Yev Rybakov
WVC MAC Gallery
September 23-October 25, 2019
Wenatchee First Friday Opening Reception: 5-7 p.m., Oct. 4
ReStructured is a collaborative project by WVC Art Department colleagues Scott Bailey, Natalie Dotzauer, and Yev Rybakov. In an installation distinct from any of their individual artistic practices, the trio endeavored to use the simplest gesture possible to create an engaging new environment in the familiar space. The multiplication of one of the most compromising features of the MAC Gallery transforms the site, making a playful and inviting atmosphere out of an austere architectural necessity.
The MAC Gallery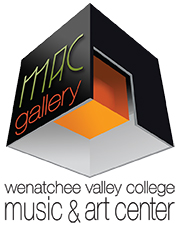 The MAC Gallery hosts a yearly series of high quality and thought provoking exhibitions of contemporary art by faculty, exceptional students, and invited professional guest artists from around the region. The carefully curated exhibitions and associated events enhance the instruction of the art department and work toward WVC's mission to provide important cultural opportunities for the community.