MAC Gallery
Current Exhibit



Multiple Originals: A Survey of Printmaking by World-Renowned Artists
Feb. 2-March 21, 2018
Friday Friday Artist's reception, Feb. 2, 5-7 p.m.
Gallery Hours: 9 a.m. to 5 p.m., Monday - Friday
With this exhibition, we explore a broad range of printmaking techniques and concepts with an incredible array of works courtesy of the Greg Kucera Gallery, Seattle. The list of world-renowned artists to be exhibited include:
Robert Motherwell
Richard Diebenkorn
Ed Ruscha, Jacob Lawrence
Kiki Smith
Martin Puryear
Jim Dine
William Kentridge
Kara Walker
Lisa Yuskavage
Kerry James Marshall
Sean Scully
Tara Donovan
Jane Hammond
Roger Shimomura
Darren Waterston
Victoria Haven
Ramiro Gomez
Anders Bergstrom
Willie Cole
Marcel Dzama
Exhibition notes:
This exhibition features some of the most valuable and prestigious works of art we have ever assembled in the MAC Gallery, where students will have the opportunity to experience first-hand art work by some of the artists that they are studying in their history and studio art classes. The eclectic group show presents a broad range of printmaking techniques, styles, and conceptual concerns, which should be particularly of interest to students of our Printmaking classes (offered in spring quarter by Vicki DeRooy).
World-renowned artists exhibited include major art historical heroes like Robert Motherwell, Richard Diebenkorn, and Jakob Lawrence; international contemporary art stars, such as Kara Walker, Kiki Smith, William Kentridge, and Lisa Yuskavage; and important Pacific Northwest artists, including Daren Waterson and Victoria Haven. While a few of the artists are known for their extensive use of printmaking, the majority are famous for their work in other disciplines, giving us insight into how their ideas translate across media, such as with sculptors Martin Puryear and Tara Donovan, or oil painters Ed Ruscha and Sean Scully.
There are a number of traditional printmaking techniques represented in the exhibition, including etching, intaglio, lithography, linocut, aquatint, drypoint, and reduction printing. Other artists are engaged in conceptual forms that challenge the very nature of what might be considered a print. Anders Bergstrom's pieces look for all the world like regular brown paper bags, but they have been meticulously printed (including with the appearance of oil stains) and constructed as super-real simulations of the banal objects. Is Willie Cole involved in printmaking when he makes his series of works by burning pieces of paper with a clothes iron? Kara Walker's piece uses a cut out negative as a mask to paint the piece directly on the gallery wall. When the show is finished, the piece will be destroyed as it is painted over again in preparation for the next show.
Aside from the obvious benefit of having these pieces in the gallery for in-person study, a select group of Art students will be given the opportunity to be intimately involved in putting on the exhibition. They will travel to the Greg Kucera Gallery in Seattle with gallery staff to learn about handling, packing, and installation of museum-quality art works, and will be involved in the curating and hanging of the show in the MAC. They also will learn about the work of organizing the exhibition, insurance, security, promotion, etc. This should make for a rare and valuable experience of the art world that they won't soon forget.
All works courtesy of the Greg Kucera Gallery, Seattle.
The MAC Gallery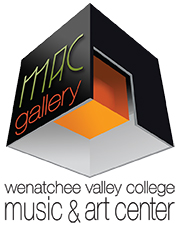 The MAC Gallery hosts a yearly series of high quality and thought provoking exhibitions of contemporary art by faculty, exceptional students, and invited professional guest artists from around the region. The carefully curated exhibitions and associated events enhance the instruction of the art department and work toward WVC's mission to provide important cultural opportunities for the community.