MAC Gallery
The MAC Gallery is able to display artwork by faculty, students, and professional guest artists thanks to generous support from grants and community members. With your donation, the gallery can continue bringing exhibits and cultural events to WVC and our community.
Current Exhibit

Graphic Design Degree Capstone:
Throwing Spaghetti at Dingos
June 1—July 27, 2018
First Friday Opening Reception: June 1, 5:00-7:00
Gallery Hours: 9 a.m. to 5 p.m., Monday - Friday
The MAC Gallery is proud to present the work of WVC's second cadre of students graduating with our AA Degree in Graphic Design. Throwing Spaghetti at Dingos is a capstone project which seeks to answer the question "What is graphic design?" with the help of the students' portfolios compiled over the two-year program (along with a mixed-metaphor). Exhibiting students include Maxwell Backer, Hannah Bodily, Alondra Duarte, Maria Estrada, Bill Evans, Makenna Faulkner, Emily Hutton, Kristina Pruhl, Zhorik Roseburg, Heather Seman, Joe Server, Caleb Smith, and Joi West.
The MAC Gallery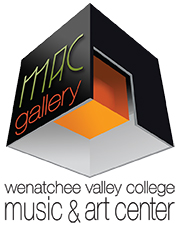 The MAC Gallery hosts a yearly series of high quality and thought provoking exhibitions of contemporary art by faculty, exceptional students, and invited professional guest artists from around the region. The carefully curated exhibitions and associated events enhance the instruction of the art department and work toward WVC's mission to provide important cultural opportunities for the community.