Rob Fitch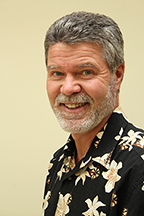 Office: Wenatchi Hall 2332
Phone: 509.682.6755
E-mail: rfitch@wvc.edu
Website: http://commons.wvc.edu/rfitch/default.aspx
Education:
B.A., Aquatic Biology, University of California-Santa Barbara
M.S., Biology, University of British Columbia
Awards:
1997-98 Outstanding Faculty Member of the Year Award
Rob Fitch has taught in the WVC Science Department since 1989. He is faculty adviser for the Science Club and Campus Crusade for Christ on the Wenatchee campus. He has also served as intramurals coordinator.
In the summers, Rob teaches at Walla Walla University's Rosario Beach Marine Laboratory adjacent to Deception Pass State Park near Anacortes, Wash. In addition, he teaches biology and anatomy labs for high school students who are home-schooled.
Rob's hobbies include ocean activities, racquet sports, folk/fiddle/worship music, and his family.