WVC hires new men's basketball coach
WVC hires new men's basketball coach
Media Contact: Rachel Goetz, interim athletic director, 509.682.6888, rbromiley@wvc.edu, or Libby Siebens, community relations executive director, 509.682.6436 (Mon.-Thurs.)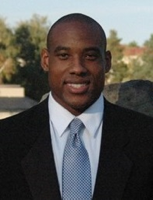 Jeremy Harden is the new head coach for Wenatchee Valley College (WVC) Knights men's basketball, replacing outgoing coaching staff Greg Franz and Brett McGinnis. He will be on campus beginning August 1.
Harden brings more than five years of collegiate coaching experience to the Knights. He comes to WVC after one season as head assistant coach for Tohono O'odham Community College (TOCC) Jegos.
Before TOCC, Harden spent three seasons as the director of player development at Boise State University working under head coach Leon Rice. Harden helped guide the Broncos to their first Mountain West Conference Championship in 2015 and a first-round appearance in the NCAA Tournament.
Prior to Boise State, Harden served as an assistant coach at Eastern Oregon University (EOU). During his collegiate coaching debut in 2012-13, he helped the Mountaineers post a 28-5 record, including a 14-2 record at home. The Blue and Gold reached their first No. 1 ranking in program history and held the top spot for five consecutive weeks. The Mountaineers went on to win the Cascade Collegiate Conference title and finished the season with the program's sixth consecutive appearance at the National Association of Intercollegiate Athletics (NAIA) National Tournament.
Harden played at Pima Community College where he was a two-year starter, team captain and led the Aztecs to their first National Junior College Athletic Association (NJCAA) Region 1 Championship as well as their first NJCAA National Championship appearance in school history.
Harden received a bachelor's degree in communications with a minor in sports management from the University of Arizona and a master's degree in business administration from EOU.
# # #
Wenatchee Valley College enriches North Central Washington by serving educational and cultural needs of communities and residents throughout the service area. The college provides high-quality transfer, liberal arts, professional/technical, basic skills and continuing education for students of diverse ethnic and economic backgrounds. Visit our website at www.wvc.edu.