Knight Fright Ride & Run on Oct. 7
Knight Fright Ride & Run on Oct. 7
September 12, 2017
Media Contact:
Rachel Evey, WVC Foundation alumni relations coordinator, (509) 682-6413
David Davin, WVC Foundation executive director, (509) 682-6415
Knight Fright Ride & Run on Oct. 7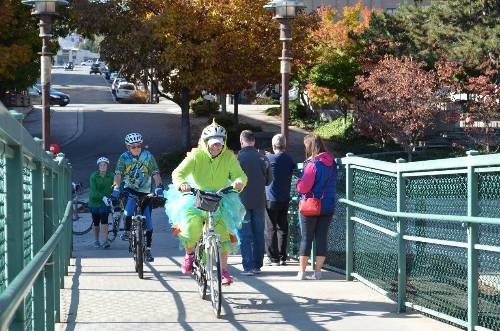 Whether a student is dealing with homelessness, a car breaking down or not enough money to pay the family grocery bill, the Knights Care Fund can cover expenses and ensure a student is able to stay in school. On Oct. 7 the Wenatchee Valley College Alumni Association will be hosting the third annual Knight Fright Ride & Run to raise funds for WVC students in crisis.
The Knight Fright Ride & Run will start at 10 a.m. on Saturday, Oct. 7, at Walla Walla Point Park.
All registrants – bike, run/walk, or "too lazy" – will receive a t-shirt. For details and to purchase tickets, visit www.wvc.edu/alumni. Sponsorship opportunities are available. This event would not be possible without the generous support of our Dragon Slayer sponsor Confluence Health and other community partners.
Participants are invited to wear costumes to this community event. There will be prizes after the ride/run for best in show. New this year is a 5k run/walk and even an option for those "too lazy to ride" – participants that want to support the cause but do not want to ride/run. The bike route will be 10 miles around the Apple Capital Loop Trail.
Last year the Knights Care Fund supported 25 WVC students. These students received funds to help with books, tuition, rent, living expenses and other expenses during a time when financial difficulty had them on the brink of dropping out.
###
The WVC Foundation was incorporated in 1971. It exists to build relationships between the community and the college and raise financial support for Wenatchee Valley College students. For information on how to make a gift to the foundation, establish a scholarship or include the WVC Foundation in your estate plans, contact (509) 682-6410. Visit the WVC Foundation website at www.wvc.edu/foundation.