Piatigorsky Foundation concert at WVC Sept. 8
Piatigorsky Foundation concert at WVC Sept. 8
August 11, 2017
Media Contact:
David Davin, WVC Foundation executive director, (509) 682-6415
Tammie Parkinson, WVC Foundation coordinator, (509) 682-6416
Kathleen LeBlanc, Piatigorsky Foundation, (212) 971-5309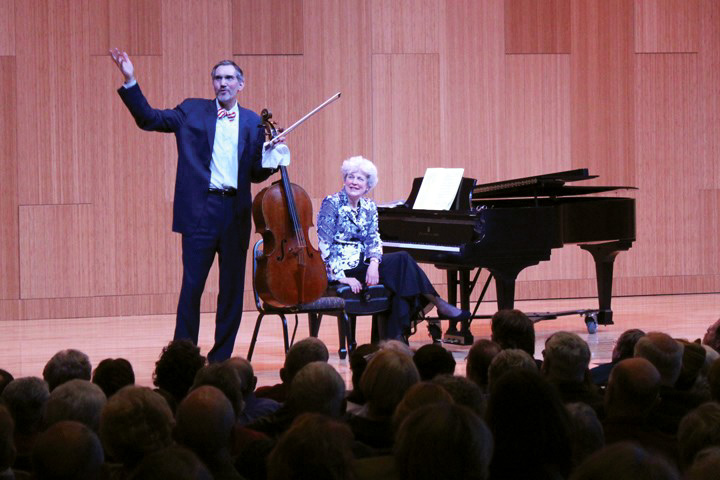 The Wenatchee Valley College Foundation will host a Piatigorsky Foundation concert on Friday, Sept. 8, at 6:30 p.m. in The Grove Recital Hall, Music and Art Center (MAC). The concert features cellist Evan Drachman and pianist Lisa Bergman.
The concert this year is being held in memory of Wilfred Woods. Wilfred and Kathy Woods brought the Piatigorsky Foundation concerts to WVC after the MAC opened in 2012. The Woods family continues to sponsor the biannual concerts.
The concert is free and open to the public. Seating is limited to 150. To reserve a seat, call (509) 682-6416.
A reception will begin at 5:30 p.m.
Evan Drachman has combined musical talent with artistic vision to create a rich and varied career. As Founder and Artistic Director of The Piatigorsky Foundation, he has become one of the most respected authorities on the presentation of live classical music for diverse audiences everywhere. In 1999, Drachman recorded his first CD, "A Frog He Went a Courting," with pianist Richard Dowling. Following this success, Drachman and Dowling released "Infinity" in 2004 and "Romance and Revelation" in 2007. Drachman has appeared regularly as a soloist with orchestras, and in recitals and chamber music performances across the U.S. and abroad. Born in Boston, Mass., Drachman studied at the Peabody Conservatory, the New England Conservatory, and received his Bachelor of Musical Arts from the Curtis Institute of Music. Drachman currently lives in Maryland with his wife Joan and their two sons, Eli and Oliver.
Lisa Bergman is a national Gracie Award-winning radio announcer on Classic KING-FM, appearing daily, streaming worldwide. Bergman is founder and Artistic Director of the Mostly Nordic Chamber Music Series in Seattle and as Executive Director of NOISE (Northwest Opera in Schools, Etcetera). She is the Adult Piano Retreat Director at the Icicle Creek Center for the Arts in Leavenworth, Wash., where she served for seven years as the Executive Director. She was Artistic Director of the Methow Chamber Music Festival from 2003-2006. Lisa is also a concert pianist specializing in collaborative piano and chamber music, and is a graduate of the Juilliard School, the State University of New York at Stony Brook and the University of Washington, cum laude. She made her Carnegie Recital Hall debut in 1983. As a recording artist, her discography includes six chamber music CDs and one solo CD. Bergman is a member of the Hall of Fame for the Washington State Music Teachers Association.
###
About The Piatigorsky Foundation: Evan Drachman established The Piatigorsky Foundation in 1990 in honor of his grandfather Gregor Piatigorsky. Piatigorsky deeply believed in the healing and inspiration power of classical music. He once said, "Music makes life better. Music is a necessity. It is rich. It is imaginative. It is magnificent. And it is for everyone." The Piatigorsky Foundation is committed to carrying on Piatigorsky's mission by evoking cultural curiosity through educational and accessible live performances.
The WVC Foundation was incorporated in 1971. It exists to build relationships between the community and the college and raise financial support for Wenatchee Valley College students, programs, faculty and staff, as well as special projects such as building campaigns like the Music and Art Center. For information on how to make a gift to the foundation, establish a scholarship or include the WVC Foundation in your estate plans, contact (509) 682-6410. Visit the WVC Foundation website at www.wvc.edu/foundation.