WVC alumna honored at Transforming Lives Awards ceremony in Olympia
WVC alumna honored at Transforming Lives Awards ceremony in Olympia
Media Contact:
Libby Siebens, community relations executive director, 509-682-6436 (Mon.-Thurs.)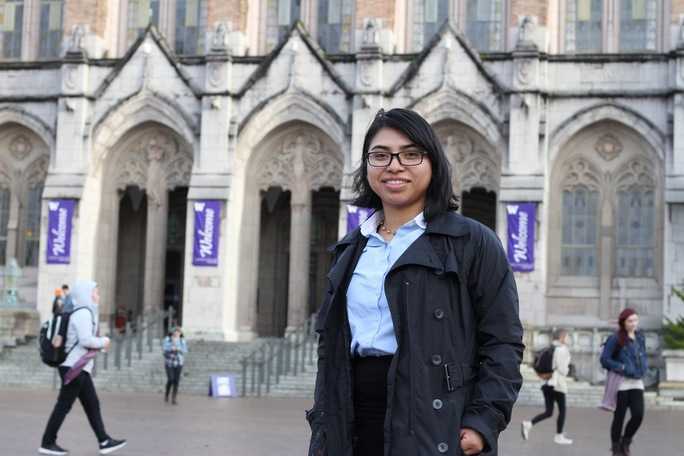 Maria Martinez-Alonzo, a Wenatchee Valley College alumna and the WVC nominee for the Transforming Lives Award, was honored at the Transforming Lives Awards ceremony in Olympia on Jan. 22.
Martinez-Alonzo graduated from Wenatchee Valley College in 2016. During her first year at WVC, she was a College Assistance Migrant Program (CAMP) scholar and was awarded the CAMP Inspirational Student Award. In her second year, Martinez-Alonzo was elected secretary of the Associated Students of WVC. She is currently attending the University of Washington and pursuing a bachelor's degree in education, communities and organization. She hopes to improve education policy and opportunities for underserved populations.
Martinez-Alonzo grew up in poverty in Guatemala. In her Transforming Lives Award application, she wrote: "I was unable to afford a pair of shoes until the age of 10. My backpack was made out of a cheap plastic bag, yet I was always happy and proud to go to school when I could." She came to the U.S. when she was 14 and began attending WVC in 2014.
The Washington State Association of College Trustees (ACT) created the Transforming Lives Awards program in 2012 to recognize current or former students whose lives have been transformed by pursuing higher education at a community or technical college. Find out more about the program and view this year's winners at sbctc.edu.
# # #
Wenatchee Valley College enriches North Central Washington by serving educational and cultural needs of communities and residents throughout the service area. The college provides high-quality transfer, liberal arts, professional/technical, basic skills and continuing education for students of diverse ethnic and economic backgrounds. Visit our website, www.wvc.edu.