WVC presents local author Wendy J. Fox March 11
WVC presents local author Wendy J. Fox March 11
Feb. 28, 2022
Media Contact:
Libby Siebens, community relations executive director, 509-682-6436 (Mon.-Thurs.)
In recognition of Women's History Month this March, the Associated Students of Wenatchee Valley College at Omak (ASWVCO) are hosting a Zoom event with author Wendy J. Fox on March 11 from 1-2 p.m.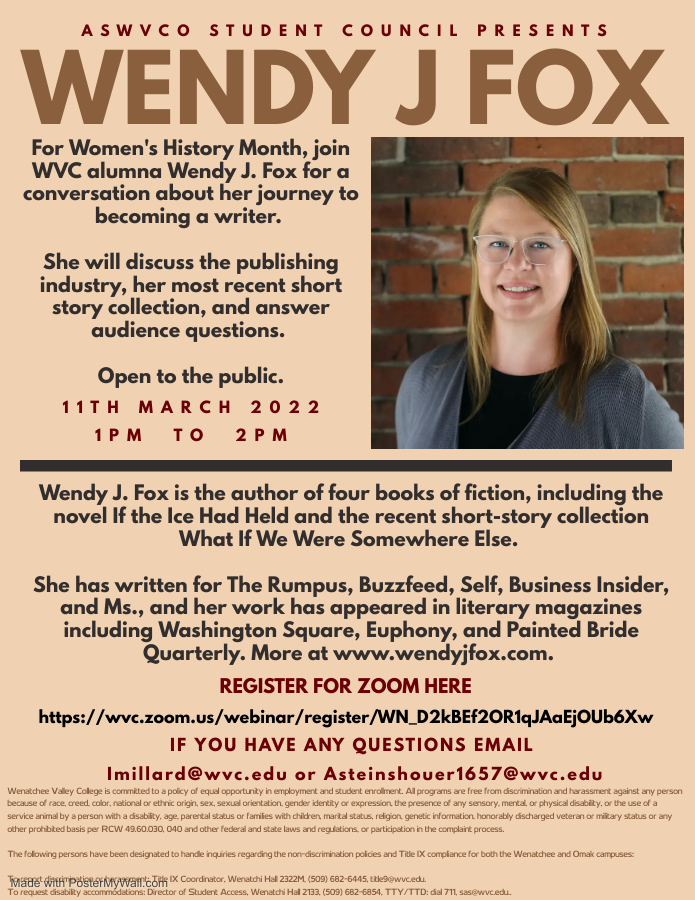 Participants can register in advance. This event is free and open to the public.
Wendy J. Fox is a Wenatchee Valley College at Omak alumna from Tonasket, Washington. She will lead a conversation about her journey to becoming a writer and answer audience questions.
Fox is the author of four books of fiction, including the novel "If the Ice Had Held" and the recent short-story collection "What If We Were Somewhere Else." She has written for The Rumpus, Buzzfeed, Self, Business Insider, and Ms., and her work has appeared in literary magazines including Washington Square, Euphony, and Painted Bride Quarterly. Wendy was a grand prize winner from Sante Fe Writers Project. She resides in Denver, Colorado. Learn more at wendyjfox.com.
###
Wenatchee Valley College enriches North Central Washington by serving educational and cultural needs of communities and residents throughout the service area. The college is committed to diversity, equity and inclusion for all students and employees and provides high-quality transfer, liberal arts, professional/technical, basic skills and continuing education for students of diverse ethnic and economic backgrounds. Visit our website, wvc.edu.
Wenatchee Valley College is committed to a policy of equal opportunity in employment and student enrollment. All programs are free from discrimination and harassment against any person because of race, creed, color, national or ethnic origin, sex, sexual orientation, gender identity or expression, the presence of any sensory, mental, or physical disability, or the use of a service animal by a person with a disability, age, parental status or families with children, marital status, religion, genetic information, honorably discharged veteran or military status or any other prohibited basis per RCW 49.60.030, 040 and other federal and state laws and regulations, or participation in the complaint process. The following persons have been designated to handle inquiries regarding the non-discrimination policies and Title IX compliance for both the Wenatchee and Omak campuses:
To report discrimination or harassment: Title IX Coordinator, Wenatchi Hall 2322M, (509) 682-6445, title9@wvc.edu.
To request disability accommodations: Director of Student Access, Wenatchi Hall 2133, (509) 682-6854, TTY/TTD: dial 711, sas@wvc.edu.