WVC presents visiting writer and memoirist Taylor Brorby March 7
WVC presents visiting writer and memoirist Taylor Brorby March 7
Feb. 27, 2023
Media Contacts:
Joan Qazi, WVC geography instructor, jqazi@wvc.edu
Derek Sheffield, WVC English faculty, dsheffield@wvc.edu
Libby Siebens, community relations executive director, 509-682-6436
Visiting writer Taylor Brorby will speak about his book "BOYS AND OIL: Growing Up Gay in a Fractured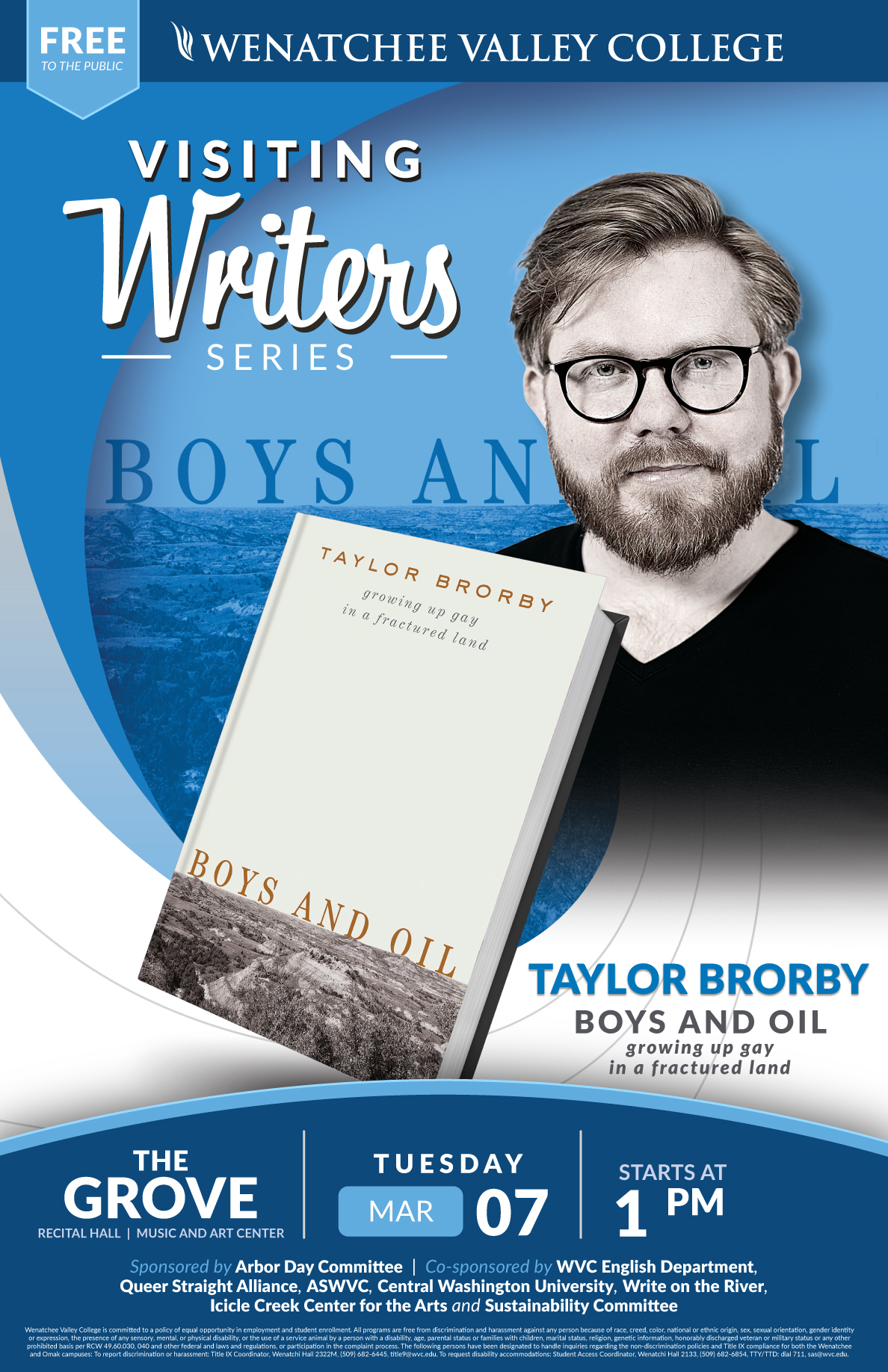 Land," in The Grove Recital Hall on Tuesday, March 7 from 1-2 p.m. This event is free and open to the public and parking is free during the event.
"BOYS AND OIL" is a coming-of-age memoir set in North Dakota. Brorby discusses his upbringing in oil country as a young, gay environmentalist. The book has recently received praise in The New York Times, Publishers Weekly and the Chicago Review of Books. Brorby is an essayist and poet. The coeditor of "Fracture: Essays, Poems, and Stories on Fracking in America," his work has appeared in the Huffington Post, Orion, and North American Review, where he is a contributing editor.
This visiting writer event is sponsored by the WVC Arbor Day Committee, as well as Central Washington University, Write on the River, the WVC English Department, the WVC QSA (Queer Straight Alliance), ASWVC, Icicle Creek Center for the Arts, A Book for All Seasons and the WVC Sustainability Committee.
###
Wenatchee Valley College enriches North Central Washington by serving educational and cultural needs of communities and residents throughout the service area. The college is committed to diversity, equity and inclusion for all students and employees and provides high-quality transfer, liberal arts, professional/technical, basic skills and continuing education for students of diverse ethnic and economic backgrounds. Visit our website, wvc.edu.
Wenatchee Valley College is committed to a policy of equal opportunity in employment and student enrollment. All programs are free from discrimination and harassment against any person because of race, creed, color, national or ethnic origin, sex, sexual orientation, gender identity or expression, the presence of any sensory, mental, or physical disability, or the use of a service animal by a person with a disability, age, parental status or families with children, marital status, religion, genetic information, honorably discharged veteran or military status or any other prohibited basis per RCW 49.60.030, 040 and other federal and state laws and regulations, or participation in the complaint process. The following persons have been designated to handle inquiries regarding the non-discrimination policies and Title IX compliance for both the Wenatchee and Omak campuses:
To report discrimination or harassment: Title IX Coordinator, Wenatchi Hall 2322M, (509) 682-6445, title9@wvc.edu.
To request disability accommodations: Director of Student Access, Wenatchi Hall 2133, (509) 682-6854, TTY/TTD: dial 711, sas@wvc.edu.