WVC All-Washington Academic Team students honored
WVC All-Washington Academic Team students honored
May 11, 2023
Media Contact:
Libby Siebens, community relations executive director, 509-682-6436 (Mon.-Thurs.)
Wenatchee Valley College students Tiffany Bryant and Juddy Anyona were honored as WVC's 2023 All-Washington academic team members in Olympia on April 27. The students will be honored again this month at the public board of trustees meeting at WVC on May 17.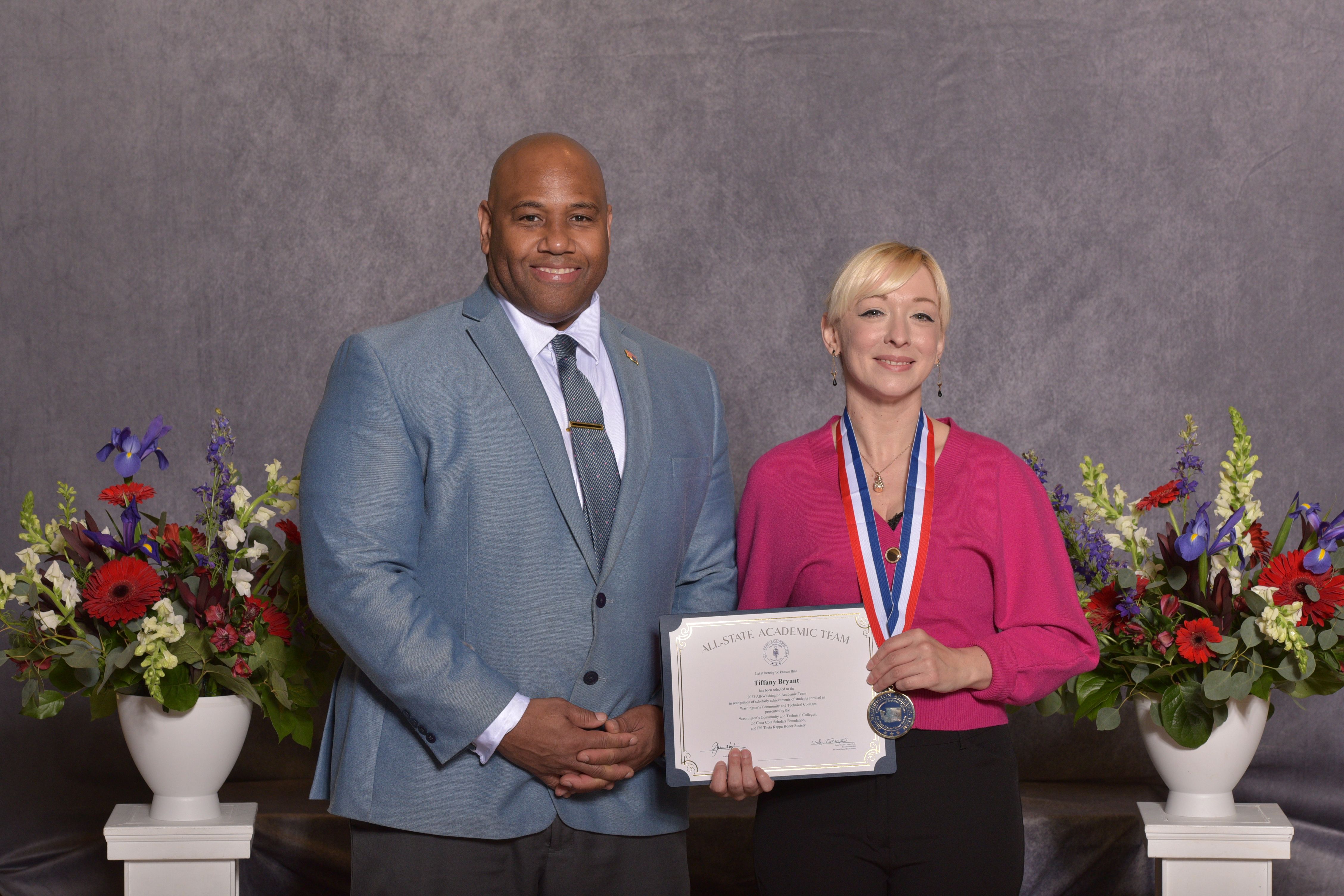 The All-Washington Academic Team program recognizes and honors our state's finest higher education students. The students who make up the All-Washington (All-WA) Team reflect the diversity of the state, maintain high standards of excellence, and contribute positively to the community.
During the official statewide All-Washington Academic Team ceremony, Tiffany received a $1,000 scholarship and Juddy received $250.
After struggling with her own mental health, Tiffany enrolled at Wenatchee Valley College at the start of the COVID-19 pandemic with the goal of pursuing a career that will allow her to help others. Now, at 38, Tiffany is the Vice President of the Psi Beta honor society and an active volunteer at WVC and in the community. She plans to transfer to Washington State University to earn her bachelor of science in psychology.
Growing up in Kenya, Juddy was eager to get an education, but it was not until she was 33 years old and a primary caregiver for her husband with Primary Progressive Sclerosis and their two young children that Juddy was able to enroll at Wenatchee Valley College and begin her associate degree in nursing. An active volunteer and PTK member, her next goal is to earn her bachelor of science in nursing.
Phi Theta Kappa, the International Honor Society for Two Year Colleges, introduced the All-USA Academic Team to recognize and honor two-year college students for their scholastic achievement and community and college service. The All-Washington Academic Team program has become the showcase for Washington's community and technical colleges because it honors the academic high achievers, and the individuals who have demonstrated a commitment to success in the classroom and in the communities in which they live. This recognition demonstrates the state's commitment to scholarship and community service on the part of those attending the state's public community and technical colleges.
###
Wenatchee Valley College enriches North Central Washington by serving educational and cultural needs of communities and residents throughout the service area. The college The college is committed to diversity, equity and inclusion for all students and employees and provides high-quality transfer, liberal arts, professional/technical, basic skills and continuing education for students of diverse ethnic and economic backgrounds. Visit our website, wvc.edu.
Wenatchee Valley College is committed to a policy of equal opportunity in employment and student enrollment. All programs are free from discrimination and harassment against any person because of race, creed, color, national or ethnic origin, sex, sexual orientation, gender identity or expression, the presence of any sensory, mental, or physical disability, or the use of a service animal by a person with a disability, age, parental status or families with children, marital status, religion, genetic information, honorably discharged veteran or military status or any other prohibited basis per RCW 49.60.030, 040 and other federal and laws and regulations, or participation in the complaint process.
The following persons have been designated to handle inquiries regarding the non-discrimination policies and Title IX compliance for both the Wenatchee and Omak campuses:
To report discrimination or harassment: Title IX Coordinator, Wenatchi Hall 2322M, (509) 682-6445, title9@wvc.edu.
To request disability accommodations: Student Access Coordinator, Wenatchi Hall 2133, (509) 682-6854, TTY/TTD: dial 711, sas@wvc.edu.