Micky Jennings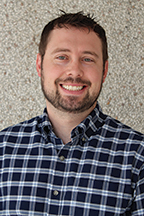 Office: Batjer Hall 8001
Phone: 509.682.6424
E-mail: mjennings@wvc.edu
AAS, Precision Machining, Walla Walla Community College
Micky Jennings began teaching machining courses at WVC in 2015.
From the WVC Discover magazine, fall 2015:
Machining is a rather broad term for a field that requires precision, and in which workers make specific products—from a part that would require holes drilled no thicker than a strand of hair, to large parts of a dam generator that would require that the machinist ride the tool being used to cut the part. Machinists also make hydraulic and pneumatic components, plastic injection molds, furniture, building beams, and automotive, airplane and electric motor parts.
"Machinists have a hand in just about anything you can see" in daily life, said Micky Jennings, WVC's new machining program faculty. "You can take a block of metal and create something that's useful. You can make almost anything."
Micky's introduction to machining began in his dad's auto machine shop in Walla Walla, where, at eight years old, he began cleaning used parts and sweeping the shop. By the time he was in junior high school, he was working alongside his father to build parts, engines and transmissions for air-cooled Volkswagons.
In high school, Micky joined Running Start and enrolled in the machining program available at Walla Walla Community College. At first, he just wanted to be a machinist, but he discovered that he enjoyed gaining more knowledge about machining. As he continued in the field, he began helping and mentoring employees he worked with, and providing on-the-job training.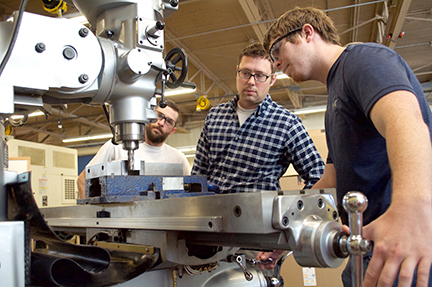 In the WVC machining program, students learn shop safety, how to read engineering drawings, math and machine tool theory, in addition to basic programming, setting up and operating CNC machines, turning, milling and grinding. The college offers a one-year certificate of completion and two-year associate of technical science degree.
WVC student Ben Williams enrolled in the machining program for a career change. "The program really covers the basics, even the inner workings of some of the automated machines. It really enhances the program. We have a big advantage of learning how to program the CNC machines," he said.
"Being able to run a machine is one thing, but learning the theory and principles behind the process is important," said machining student Justin McNamara.
Students also complete a job shadow and internship at the end of their second year. Three machining students are now completing internships at TCB Inc. in Kent, Rosemount Specialty Products in East Wenatchee and PA&E in Wenatchee. In addition, Micky takes the students on field trips to machining companies such as RAAD Industries, Cashmere Manufacturing and Holland Machine. He's also hoping to take his students to the Northwest Machine Tool Show in Portland next April.
"Micky connects us to employers or others in the community to help strengthen our knowledge in the field," Ben said.
Employment in the machining field is strong, and, depending on their certificate or degree pathway, students will be trained for employment as millwrights, manual lathe machinists, drafting technicians, industrial mechanics, machinist apprentices, CNC programmers, precision machinists, quality control and production supervisors, to name a few.