Theater Arts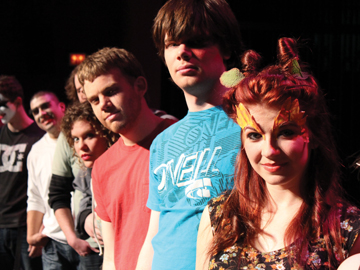 The theater arts program at Wenatchee Valley College helps students learn new skills and gain confidence while exploring the creative process. Participating in performing arts also improves people's powers of observation, and crystallizes one's view of life and reactions to the human dilemma. Besides that, it's fun!
The associate of arts and sciences degree at WVC requires a student to take 15 credits of humanities, at least five of which need to be in performing arts (music or theater arts). Theater arts classes include theater as an art form, acting and production. The department offers opportunities through class projects and productions for students to act, direct, write, design and build sets and costumes, and work with makeup and masks.
Students also are welcome to join Characters of the Knight, a theater arts club whose purpose is to help students experience the performing arts through live performances, workshops with professional artists, and off-campus travel to theaters and festivals.
Fundamentals of stage acting, employing practical exercises, games and performance activities. How to analyze, interpret and present a theatrical character to an audience. Voice, movement and concentration will be stressed, as well as basic stage terminology.
Comprehensive basic course covering the elements of theater production and administration: stage types/rigging, lighting/sound, costumes, sets, makeup, theater management, box office, ticketing, and publicity. Concepts and techniques of stage craft and stage administration apply knowledge by working with a production team in a professional performing arts setting.
Focuses on advanced acting techniques and in-depth character/play analysis as well as more complex scene work. Projects related to play directing and production will be assigned. Prerequisites: THTR 165 or instructor's signature.