Jack & Edna Maguire Donor Profile
Jack & Edna Maguire Donor Profile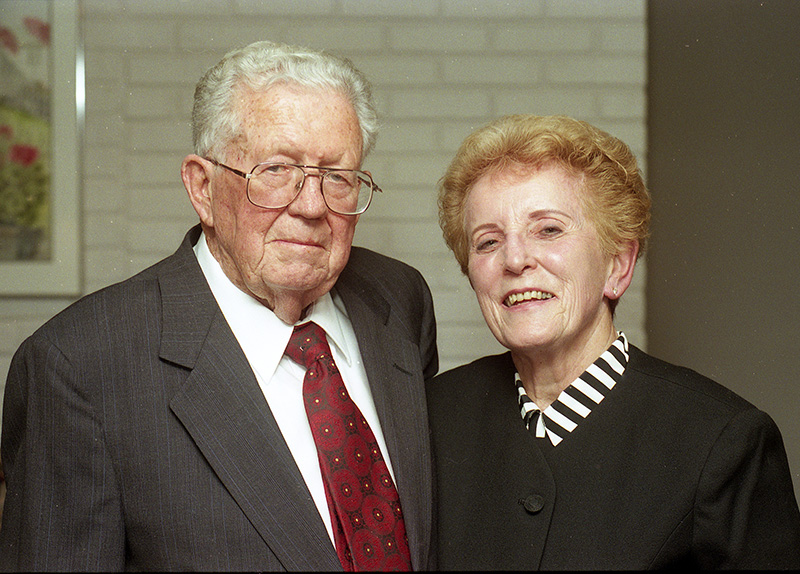 When Edna Maguire and her husband Jack established a scholarship endowment with the WVC Foundation in 1995, she probably didn't envision its results making her cry twenty one years later.
But the frail 94-year-old Wenatchee resident did cry – tears of joy -- from her bed at a Wenatchee convalescent center in February 2016 as her daughter Virginia Fast read thank-you letters from the three students who were awarded scholarships from the endowment for academic year 2015-2016.
"My mom's a 'tough cookie'," explained Virginia. "But when I was reading the thank-you notes from this year's scholarship recipients, she cried. And she said, 'Oh, I wish Jack were here [to read them, as well].'"
A stockbroker who had lived in Wenatchee since 1947, Jack Maguire passed away in 1998. He was responsible for the opening of the Wenatchee branch of Murphy Favre, an investment firm, in 1952.
The Jack and Edna Maguire scholarship endowment was set up in 1995, thanks to the couples' gift of 7,000 shares of Washington Mutual Bank stock. At the signing of the endowment documents, the Maguires said they wanted to contribute to the community that had been so good to them. And – because both of Edna's two daughters pursued rewarding careers as physical education teachers – the Maguires wanted to give a helping hand to students who plan to become educators.
Thanks to Jack and Edna's philanthropy, the scholarship has been awarded eighty five times since its inception, paying out a total of $212,702.
Each scholarship pays the student's full tuition and the costs of all books and fees for one academic year. Students who graduate from a high school in Chelan, Douglas or Okanogan county and who plan to study education at WVC may apply.
"I know my mom values education highly," said Mrs. Fast. "She has always been an advocate of learning and, when we were growing up, she made it clear to me and my sister Jeannie that she expected us to go to college."
Both Virginia and Jeannie Vahlsing were physical education teachers and athletic coaches before they retired. Continuing the love of teaching and the family tradition, Jeannie's daughter teaches physical education to students ranging from preschool to college in Tacoma.
Edna was a business graduate from Washington State University at a time when very few females attended college. And most of those who did pursue higher education studied to be teachers, nurses, or secretaries – not business.
As a young woman, Edna showed business acumen when she helped her French immigrant father with the financial aspects of his sheep-raising business in Ritzville, WA. At the age of twelve, Edna accompanied her father to his bank and helped him conduct business there. During her first marriage to the late Robert Fast, she oversaw the fiscal and operational portions of the veterinary practice they started and owned in Hermiston, OR. He passed away in the early 1950s.
The WVC Foundation honored Edna Maguire for her financial support during the third biannual WVC Foundation's Barbara Wilson Women's Luncheon in November, 2013.
Edna's health doesn't allow her to meet the scholarship recipients in person currently, as she did for many years. But she still is eager to learn about them and their educational and career plans, through their letters and other outreach. "Those thank-you notes mean so much to her," Virginia said.
Following are excerpts from thank-you letters written by the most recent recipients of the scholarship:
Geovanna Alviter, a Cashmere High School graduate, is studying to be a kindergarten teacher. After she completes her degree at WVC, she plans to transfer to Central Washington University. Geovanna wrote to Edna: "I promise I will always do my best in all that I do. I will work very hard to achieve my goal."
Blanca Lopez, from Royal City, is working at WVC toward a degree in elementary education. She plans to transfer to Western Washington University after completing a degree at WVC. Blanca's letter said: "Not only does your award allow me to concentrate more fully on my studies, but it reminds me that people in this community immensely support students who strive toward their careers. I am forever thankful for your generous donation. You have inspired me to be the best I can be."
Kerlyn Heen, from Pateros, plans to complete a degree in Early Childhood Education at WVC. She wrote the following to Edna: "Thank you for providing this scholarship. It is because of your thoughtfulness and generosity that I am able to concentrate on my education without increased financial worries. I do not know what I would be doing without this amazing scholarship. Thank you!