Kissler family gives $15,000 towards welding scholarship
Kissler family gives $15,000 towards welding scholarship
October 4, 2017
Media Contact:
David Davin, WVC Foundation executive director, (509) 682-6415
The Kissler Family Foundation made an initial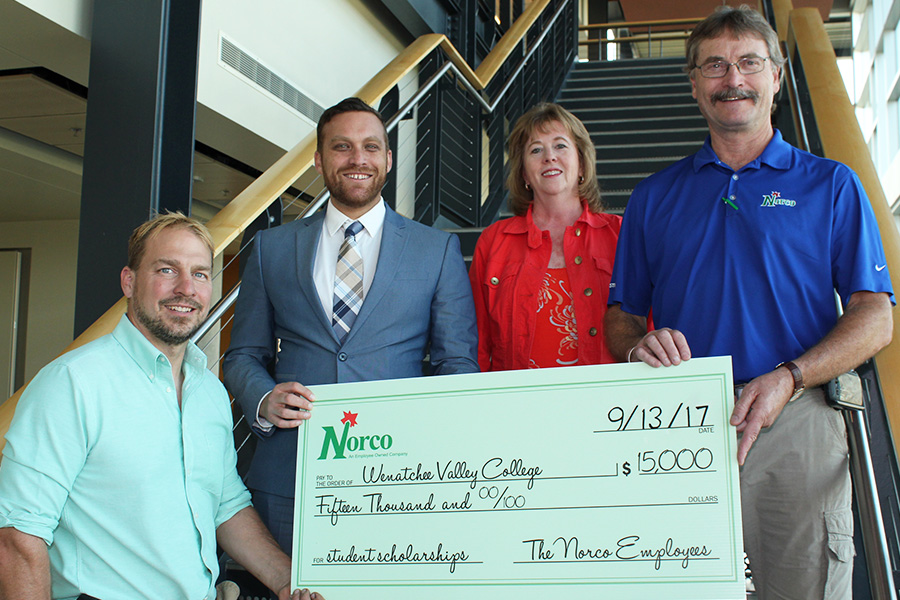 investment of $15,000 to set up a scholarship fund for welding students at Wenatchee Valley College.
The Kissler Family Foundation Norco scholarship will provide financial assistance to any students pursuing either a short-term program or the one-year certification course in the form of two $1,500 scholarships awarded annually.
The Boise-based Kissler Family Foundation was established in 1986 in order to support students. Fran and Larry Kissler, owners of Norco from 1968-1985, worked while in college in eastern Washington. Now, they fund the scholarship using the profits from Norco, Inc. to help students entering the welding industry pay for their education.
WVC Foundation Executive Director David Davin said this scholarship allows students pursuing the welding trade to get the financial support they need to begin their career or to support themselves while they change careers.
"It's a high-paying job in a tough economy," Davin said. "And it's a growing industry around here. A lot of other industries have uncertainty about them, but welding doesn't right now. Welding is a growing field."
The welding program at WVC trains individuals to weld in construction, repair, maintenance and fabrication fields. The program expanded this year to include training to be a welding inspector.
###
The WVC Foundation was incorporated in 1971. It exists to build relationships between the community and the college and raise financial support for Wenatchee Valley College students, programs, faculty and staff, as well as special projects such as building campaigns like the Music and Art Center. For information on how to make a gift to the foundation, establish a scholarship or include the WVC Foundation in your estate plans, contact (509) 682-6410. Visit the WVC Foundation website at www.wvc.edu/foundation.