Wenatchee Valley College employees recognized
Wenatchee Valley College employees recognized
June 20, 2019
Media Contact:
Libby Siebens, community relations executive director, 509-682-6436 (Mon.-Thurs.)
Outstanding faculty and staff members at Wenatchee Valley College were recognized by colleagues and the WVC Foundation at an awards ceremony in June.
Art faculty Scott Bailey received the Linda Schultz Herzog Faculty Member of the Year Award, which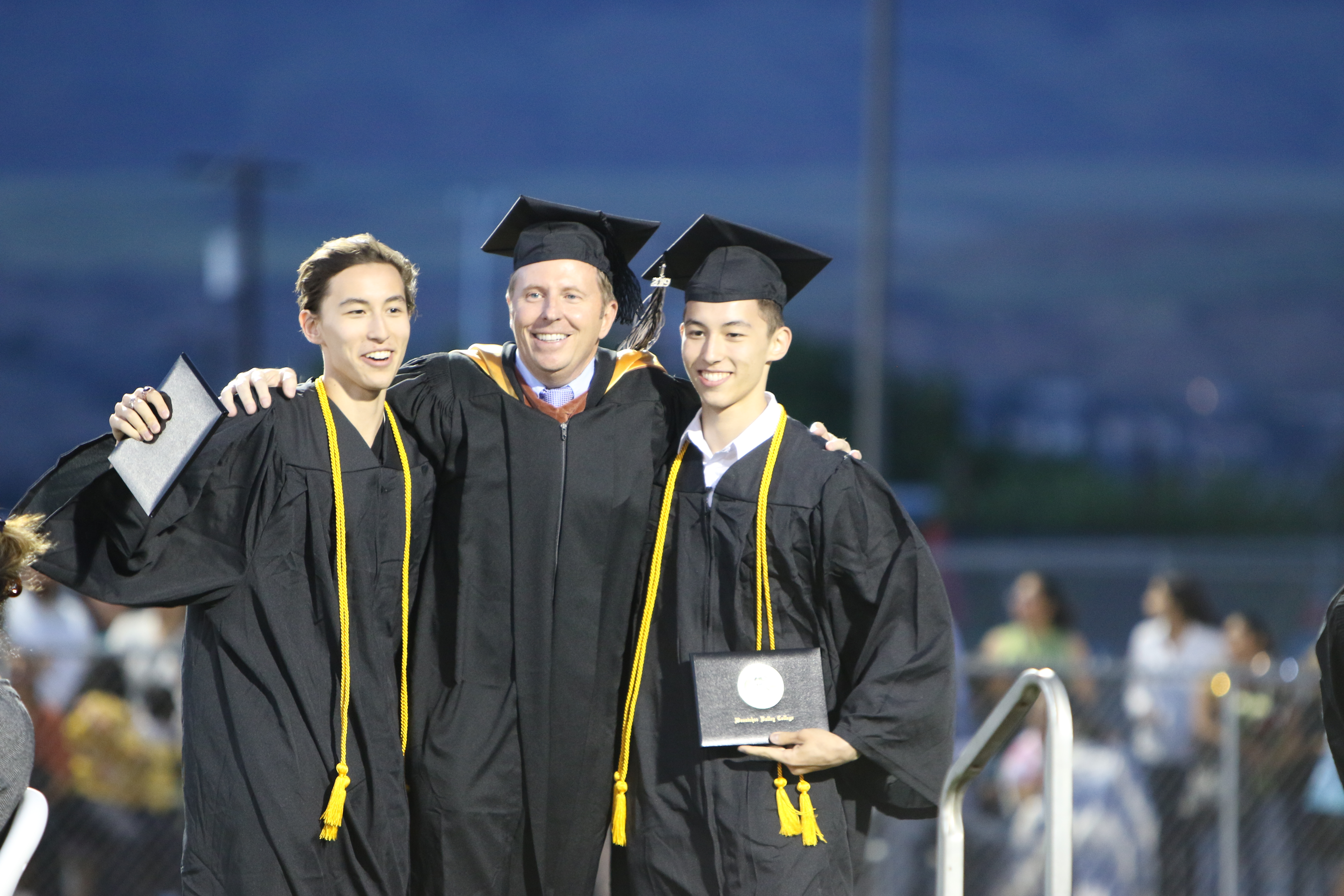 includes a $1,000 honorarium funded by the WVC Foundation. In a letter nominating Bailey for the award, Derek Sheffield, English faculty, wrote, "Professor Scott Bailey represents the very best of Wenatchee Valley College. He is a committed teacher who consistently individualizes his instruction and, in doing so, becomes a mentor to the students lucky enough to find their way into his classroom. His effectiveness as a teacher is fueled by his own mastery of his discipline. As an artist of the highest caliber who has shown his work internationally in some of the most prestigious galleries, his own lifelong learning in practicing the craft of art fuels the creative and critical work going on in his classes."
Bailey is the art program director and teaches painting, drawing, art appreciation, an Art and Ornithology Learning Communities course and other art courses. He is the curator of the MAC Gallery on the Wenatchee campus, which hosts a yearly series of high-quality exhibitions of contemporary art by faculty, exceptional students and invited professional guest artists from around the region. Bailey started at WVC in 2003.
Bailey has held solo exhibitions in the US, Japan, Italy, Egypt, and South Africa, and his work has been critically recognized in a variety of national and international publications. He has also worked as the Seattle Corresponding Editor for Contemporary Magazine (London). His work draws heavily on his experiences of living in Italy, Japan, and Egypt, and having traveled to more than 50 countries.
Dr. Dave Bennatt, biology faculty and Xiaowen Zhao, biology lab technician, received the Alcoa Excellence in Teaching Award, which also includes a $1,500 grant provided by Alcoa. Each year, faculty members are invited to submit proposals that will support instructors in the development of a project that significantly increases learning effectiveness. Dr. Bennatt and Zhao applied for the grant to support their Course-based Undergraduate Research Experiences at WVC. Undergraduate research projects are designed to be diverse, equitable and inclusive, presenting all students in a classroom with opportunities to perform authentic scientific research within a course. This year, 54 microbiology students participated. With the award, Dr. Bennatt and Zhao plan to expand the opportunities to more disciplines, including chemistry, agriculture, cell biology and others.
Janet Franz, executive assistant to the president, received the Anna Pieratt Spirit of WVC Award for her 27 years of promoting and embodying WVC spirit. This award honors an individual or group who has demonstrated the spirit exemplified by Anna Pieratt when she served as executive assistant to the president.
Reagan Bellamy, executive director of human resources, received the WVC Exempt Staff Award, which includes a $1,000 honorarium funded by the WVC Foundation.
Ann Reyna, custodian, received the WVC Alcoa Classified Staff Award and a $1,000 honorarium funded by Alcoa.
Ten-year service awards were presented to Dustin Clark, history faculty; Shane Hendrickson, chemistry faculty; Maria Christina Monroe, director of concurrent enrollment programs; and Tria Skirko, electronic services librarian and WVC at Omak (WVCO) faculty.
Fifteen-year service awards were presented to Erin Davidson, program developer in WVC Continuing Education; Cheryl Fritz, assistant director of financial aid; Juel Iwaasa, music faculty; Jean Rodgers, WVCO business faculty and Roman Sandoval, instruction and classroom support technician.
Twenty-year service awards were presented to Ralph Dawes, Earth sciences faculty; Olivia Drakes, library system administrator; Zack Jacobson, industrial technology faculty; Jan Kaiser, medical assistant program director; Heather Maddy, executive assistant to the vice president of administrative services; Bruce Maxwell, institutional effectiveness data manager; Fran Moser, financial aid program specialist; Shelly Pflugrath, psychology faculty; Derek Sheffield, English faculty and Steven Stefanides, chemistry faculty.
Twenty-five year service awards were presented to Michael Choman, accounting and business faculty; Tim Marker, human resources consultant and Livia Millard, WVCO multicultural affairs coordinator and academic adviser.
A thirty-year service award was presented to Carie Fisk, payroll manager; Rob Fitch, biology faculty; Jack Johnson, English faculty and Gerald Tiffany, English faculty.
Employees retiring this year were also recognized, including Carla Boyd, student access coordinator; Jan Clark, workforce education grants coordinator; Janet Franz, executive assistant to the president; Joan Pizzano, retail clerk lead and Nancy Spurgeon, early childhood education program director.
###
Wenatchee Valley College enriches North Central Washington by serving educational and cultural needs of communities and residents throughout the service area. The college provides high-quality transfer, liberal arts, professional/technical, basic skills and continuing education for students of diverse ethnic and economic backgrounds. Visit our website, wvc.edu.
Wenatchee Valley College is committed to a policy of equal opportunity in employment and student enrollment. All programs are free from discrimination and harassment against any person because of race, creed, color, national or ethnic origin, sex, sexual orientation, gender identity or expression, the presence of any sensory, mental, or physical disability, or the use of a service animal by a person with a disability, age, parental status or families with children, marital status, religion, genetic information, honorably discharged veteran or military status or any other prohibited basis per RCW 49.60.030, 040 and other federal and state laws and regulations, or participation in the complaint process. The following persons have been designated to handle inquiries regarding the non-discrimination policies and Title IX compliance for both the Wenatchee and Omak campuses:
To report discrimination or harassment: Title IX Coordinator, Wenatchi Hall 2322M, (509) 682-6445, title9@wvc.edu.
To request disability accommodations: Student Access Coordinator, Wenatchi Hall 2133, (509) 682-6854, TTY/TTD: dial 711, sas@wvc.edu.