New student registration and tuition deadline extended to Sept. 18
New student registration and tuition deadline extended to Sept. 18
September 1, 2020
Media Contact:
Libby Siebens, community relations executive director, 509-682-6436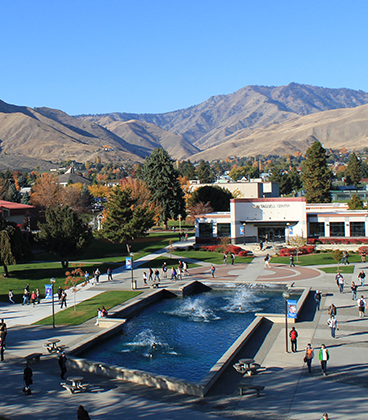 Wenatchee Valley College has extended the new student tuition and registration deadline from Friday, Sept. 4 to Friday, Sept. 18. WVC leadership extended the deadline to accommodate students who may not have registered yet due to complications from the COVID-19 pandemic. The Running Start application deadline is still Wednesday, Sept. 9.
WVC is offering the majority of its classes remotely this fall. All lecture classes will be online, and a small number of approved hands-on classes will be able to meet in person following strict health and safety protocols.
"We want to be flexible. We understand that in addition to enrolling in classes, many potential students are also juggling childcare, homeschooling or work," said WVC President Dr. Jim Richardson. "We are trying to provide as many resources as possible to help new students succeed, despite these unusual circumstances."
WVC is currently offering a variety of resources for new students:
Online resources – find resources for online learning or contact information for key student resources at wvc.edu/Online.
STEPP – the Student Tuition Easy Payment Plan (STEPP) lets students pay tuition using a flexible payment schedule (wvc.edu/PaymentPlan).
New Student Orientation – from Sept. 8-11, students can meet classmates, learn about campus resources, financial aid and successful study habits (wvc.edu/Orientation).
Financial Aid – there is still time to complete the FAFSA and WASFA and complete the 2020-2021 WVC scholarship application (wvc.edu/FinancialAid).
Online readiness orientation – a free, self-guided orientation on how to use online learning tools and succeed in online classes (wvc.edu/Distance).
Virtual Assistance – get live help from staff in educational planning, financial aid, registration and admission, counseling, IT and more (wvc.edu/VA).
Live chat – get help with simple questions quickly using the live chat feature on our website (wvc.edu).
Students can apply to WVC by visiting wvc.edu/GetStarted. They can register for courses by visiting wvc.edu/Courses and they can pay tuition by visiting wvc.edu/Pay.
###
Wenatchee Valley College enriches North Central Washington by serving educational and cultural needs of communities and residents throughout the service area. The college provides high-quality transfer, liberal arts, professional/technical, basic skills and continuing education for students of diverse ethnic and economic backgrounds. Visit our website, wvc.edu.
Wenatchee Valley College is committed to a policy of equal opportunity in employment and student enrollment. All programs are free from discrimination and harassment against any person because of race, creed, color, national or ethnic origin, sex, sexual orientation, gender identity or expression, the presence of any sensory, mental, or physical disability, or the use of a service animal by a person with a disability, age, parental status or families with children, marital status, religion, genetic information, honorably discharged veteran or military status or any other prohibited basis per RCW 49.60.030, 040 and other federal and state laws and regulations, or participation in the complaint process. The following persons have been designated to handle inquiries regarding the non-discrimination policies and Title IX compliance for both the Wenatchee and Omak campuses:
To report discrimination or harassment: Title IX Coordinator, Wenatchi Hall 2322M, (509) 682-6445, title9@wvc.edu.
To request disability accommodations: Director of Student Access, Wenatchi Hall 2133, (509) 682-6854, TTY/TTD: dial 711, sas@wvc.edu.