WVC machining program receives $10,000 Gene Haas grant
WVC machining program receives $10,000 Gene Haas grant
Feb. 26, 2020
Media Contact:
Micky Jennings, WVC machining faculty, 509-682-6424
Libby Siebens, WVC community relations executive director, 509-682-6436 (Mon.-Thurs.)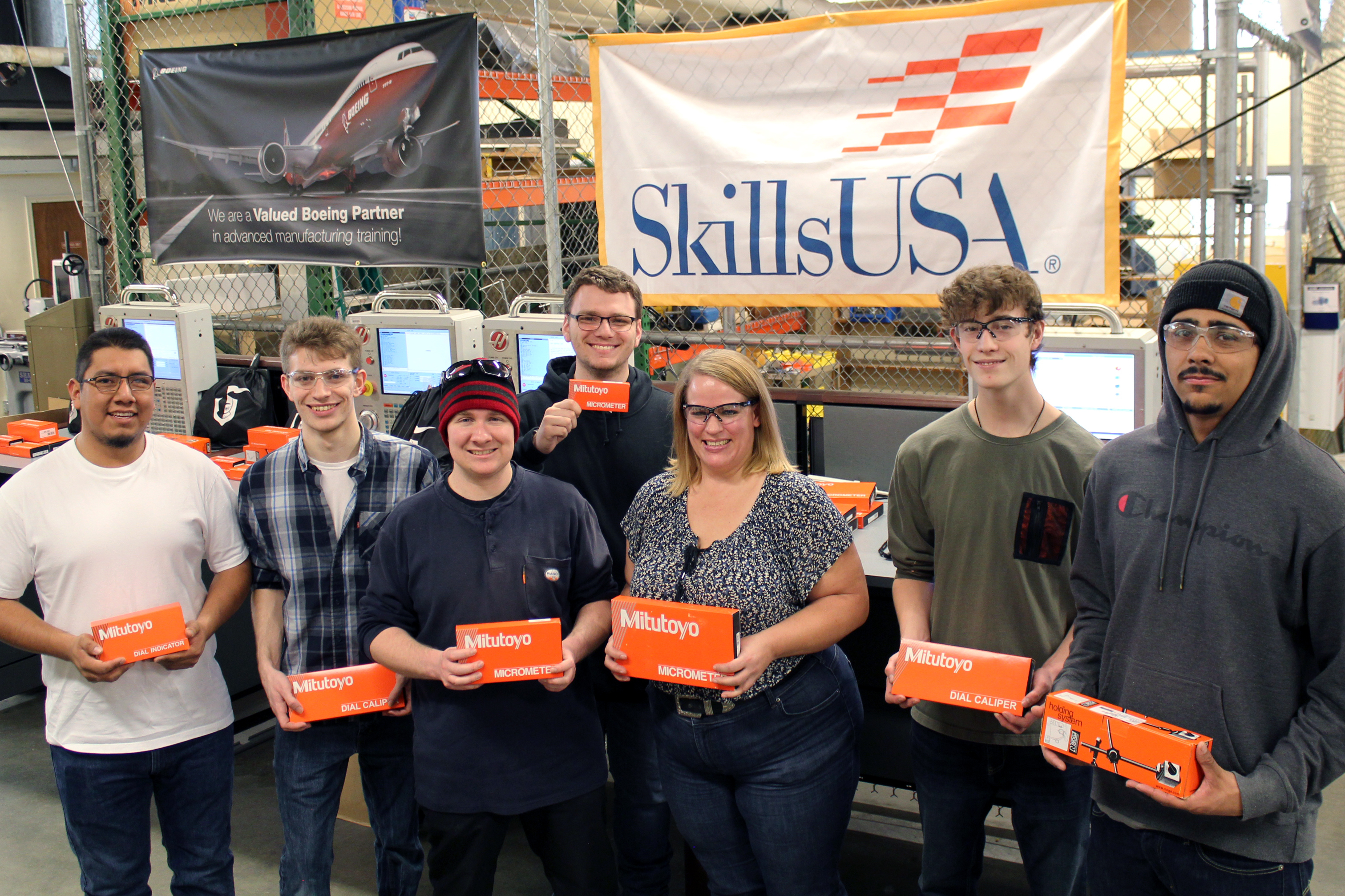 The Wenatchee Valley College machining program received a $10,000 grant from the Gene Haas Foundation. This is the second time the program has received this grant.
In the past two years, the grant has purchased over $15,000 worth of personal tools for 10 students and has provided $4,500 for Skills USA students to attend state and national conferences.
Students require around a dozen unique tools each year of the program. Over two years, the cost of necessary tools is around $3,000 out of pocket. Thanks to the Gene Haas grant, both first year and second year students received all the tools required for their machining classes. The tools are given directly to students to be used in classes and then taken with them once they leave WVC. WVC administrators and the WVC Foundation presented tools to this year's machining students in a ceremony on Jan. 28.
WVC machining faculty Micky Jennings said that being gifted high-quality tools removes a financial barrier for students and sets them up for success after college.
"If a student is tasked with buying their own tools, inferior tools are often purchased because of the limited funds students often have during school and directly after graduation," he said. "Inferior tools lead to measurement inaccuracies, scrapped parts and loss of time. Instead, the tools they've been gifted should last an entire career if handled appropriately. This gift from the Gene Haas Foundation gives the students a head start toward being leaders in modern manufacturing."
The machining program has sent students to national Skills USA competitions in the past two years, and WVC machining faculty member Micky Jennings said he has high hopes that he will have more students attend this year. He said the Gene Haas Foundation helped fund travel and professional attire for students to attend the competitions.
The Gene Haas Foundation was founded by Gene Haas in 1999 with the goal of building skills in the machining industry by providing scholarships for CNC machine technology students and NIMS credentials. Learn more at ghaasfoundation.org.
###
Wenatchee Valley College enriches North Central Washington by serving educational and cultural needs of communities and residents throughout the service area. The college provides high-quality transfer, liberal arts, professional/technical, basic skills and continuing education for students of diverse ethnic and economic backgrounds. Visit our website, wvc.edu.
Wenatchee Valley College is committed to a policy of equal opportunity in employment and student enrollment. All programs are free from discrimination and harassment against any person because of race, creed, color, national or ethnic origin, sex, sexual orientation, gender identity or expression, the presence of any sensory, mental, or physical disability, or the use of a service animal by a person with a disability, age, parental status or families with children, marital status, religion, genetic information, honorably discharged veteran or military status or any other prohibited basis per RCW 49.60.030, 040 and other federal and state laws and regulations, or participation in the complaint process. The following persons have been designated to handle inquiries regarding the non-discrimination policies and Title IX compliance for both the Wenatchee and Omak campuses:
To report discrimination or harassment: Title IX Coordinator, Wenatchi Hall 2322M, (509) 682-6445, title9@wvc.edu.
To request disability accommodations: Director of Student Access, Wenatchi Hall 2133, (509) 682-6854, TTY/TTD: dial 711, sas@wvc.edu.