WVC Foundation announces annual award recipients
WVC Foundation announces annual award recipients
August 30, 2021
Media Contact:
Rachel Evey, WVC Foundation executive director, 509-682-6415
The Wenatchee Valley College Foundation has announced the 2020 winners of The Outstanding Friend of the College award and The Harvey Award. Annual awards recognize the support and accomplishments of community members who champion WVC.
Outstand Friend of the College: Sara Lippert

Lippert and her late husband Lee began giving more than 20 years ago, and the Lee and Sara Lippert Scholarship Endowment was established after Lee's death as a permanent way to support WVC students. Sara served as a foundation board member, and during her tenure she was actively involved in events, fundraising, and recruiting new board members. This award recognizes an individual, couple, family, business, or organization that has contributed to WVC through financial support or service, or a combination of both.
"This institution provides a future for those who seek it, both monetarily and physically," said Lippert. "When I see donations come in, I know that they will make a significant impact in the life of someone who needs it. That is incredibly powerful."
The Harvey Award: Tamara Dezellem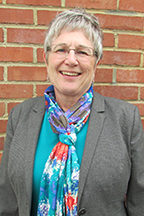 This award is presented to a past WVC Foundation Board member who has given time, talent, and treasure in their service to the Foundation and who demonstrates a passion for the College, its faculty, programs, and future growth. Dezellem has served two terms on the Board and served in a leadership role while overseeing the budget and finance committee.
Both award recipients were nominated, and a committee of foundation board and community members made the final selections.
"A significant part of our success is made possible by a team of committed volunteers who donate their time, talents, and resources to provide equitable access to education and invest in student advancement," said Rachel Evey, executive director of the foundation. "These investments do not go unnoticed. The WVC Foundation is pleased to honor two long-time volunteers with these awards."
Jaime Ramirez, a teacher at Cascade Elementary School in East Wenatchee, was announced as the Distinguished Alumni of 2020 in February.
Those interested in supporting WVC students directly can donate to the WVC Foundation at wvc.edu/Give.
###
The WVC Foundation was incorporated in 1971. It exists to build relationships between the community and the college and raise financial support for Wenatchee Valley College students, programs, faculty and staff, as well as special projects such as building campaigns like the Music and Art Center. For information on how to make a gift to the foundation, establish a scholarship or include the WVC Foundation in your estate plans, contact (509) 682-6410. Visit the WVC Foundation website at wvc.edu/Foundation.
Wenatchee Valley College is committed to a policy of equal opportunity in employment and student enrollment. All programs are free from discrimination and harassment against any person because of race, creed, color, national or ethnic origin, sex, sexual orientation, gender identity or expression, the presence of any sensory, mental, or physical disability, or the use of a service animal by a person with a disability, age, parental status or families with children, marital status, religion, genetic information, honorably discharged veteran or military status or any other prohibited basis per RCW 49.60.030, 040 and other federal and state laws and regulations, or participation in the complaint process. The following persons have been designated to handle inquiries regarding the non-discrimination policies and Title IX compliance for both the Wenatchee and Omak campuses:
To report discrimination or harassment: Title IX Coordinator, Wenatchi Hall 2322M, (509) 682-6445, title9@wvc.edu.
To request disability accommodations: Student Access Director, Wenatchi Hall 2133, (509) 682-6854, TTY/TTD: dial 711, sas@wvc.edu.