Nursing Assistant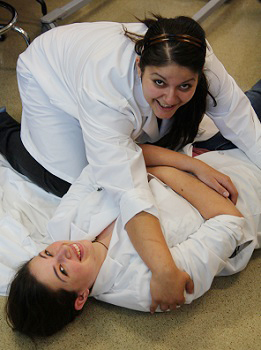 Certified Nursing Assistant (CNA) courses teach basic patient caregiving skills. Upon completion of a CNA course, you are eligible to take the certification examination to become a licensed nursing assistant. Either a Certificate of Completion from a CNA course (with a minimum of 35 class and 50 clinical hours) or a current Washington State Nursing Assistant Certification License is required when applying to WVC's Nursing program. You can choose from the two options below when signing up for a CNA course (you must be 17 by the first day of the course).
Option 1: NURS 100A
Quarter-long, 10-credits
On the Wenatchee campus, this course is usually offered every quarter from 9am-12pm, Monday - Thursday.
On the Omak campus, the class schedule varies. Always check the Course Schedule in case changes have been made and do not schedule other courses right after NURS 100A ends because you will need time to travel back to campus from clinical sites. For information on pricing, view our tuition and fees page.
To register for NURS 100A, follow these steps:
Decide which quarter to take NURS 100A

Winter quarter 2021 is November 30, 2020 (No longer accepting applications)
Spring quarter 2021 is February 22, 2021 (Omak and Wenatchee cohorts)
Summer quarter 2021 is June 1, 2021 (Wenatchee cohort only)
Fall 2021 is TBD (Wenatchee cohort only)

Complete the NURS 100A Application (PDF)
Submit the completed application

Wenatchee: Rhonda Yenney, Wenatchi Hall 2221E, ryenney@wvc.edu or (509) 682-6660
Omak: Shelly LaGrou, Friendship Hall 210A, slagrou@wvc.edu or (509) 422-7952

Once your application has been reviewed, and is determined to be complete, you will receive an enrollment form from either Rhonda or Shelly. Submit the enrollment form to the WVC Registration Office.
| | |
| --- | --- |
| Documentation to Turn in with Nursing Assistant Application | Suggested Completion |
| Description | Date to Begin Step |
| Proof of TB 2-STEP PPD, Annual PPD, or Quantiferon. If positive, provide x-ray/medical release | By 2/8/2021 |
| Proof of HEP B (1st step required) or positive titer lab report | By 2/22/2021 |
| Proof of Flu Vaccine | By 2/22/2021 |
| Copy of Complio Background Check—http://www.wenatcheevalleycompliance.com/ | Do 2/19/2021 |
| Copy of Complio Drug Screen—http://www.wenatcheevalleycompliance.com/ | Do with previous step |
| DSHS Background Check confirmation page—https://fortress.wa.gov/dshs/bcs/ | Do 2/19/2021 |
| Completed the Nursing Assistant Application Packet - NURS 100A and submit with all of the above | Register 2/22 to 3/22/2021 |
Seats for each class are limited. Spring 2021 registration begins February 22, 2021.

Option 2: Fast-Track Course
3 weeks, no credit
The Fast-Track courses are offered through the Continuing Education Department and the schedule varies.
To register for a Fast-Track course, follow these steps:
Decide when you will take a Fast-Track course. The schedule is available on the Continuing Education website. The schedule is subject to change so check the website often for up-to-date information. Questions can be directed to the Continuing Education department: ceinfo@wvc.edu or (509) 682-6900.
Sign up for an open Fast-Track course online. If the course you want is full, add yourself to the waitlist and sign up for a back-up course.
Complete the Fast-Track CNA Application (PDF).
Submit the completed application to Continuing Education (Wells Hall, Continuing Education Department, ceinfo@wvc.edu, (509) 682-6900)
Nursing Assistant Outcomes
Students who complete the Nursing Assistant Certificate program will be able to:
Be prepared to work under the direction of LPNs, RNs, or other qualified health care workers to provide basic patient care.
Demonstrate basic personal care skills.
Provide patient-centered care and perform nursing skills in a safe, competent and therapeutic manner.
Use communication skills effectively to function as a member of the nursing team.
Demonstrate knowledge of normal changes in body systems associated with aging
Recognize and report changes in the resident/client's condition
Use procedures and techniques to prevent the spread of micro-organisms.
Demonstrate the ability to identify and implement safety/emergency procedures.
Perform within the ethical and legal boundaries of the scope of practice.
Display professionalism in appearance and job performance.
Be eligible to take the WA State Certification Exam for Nursing Assistants.
Additional Considerations
Conviction of certain crimes may prevent completion of the clinical class requirements of the program and may prevent future licensure and employment in health care. A criminal record check is required prior to any clinical training experience or clinical field trips. If you have a criminal record, meet with the WVC Dean of Allied Health to determine if your criminal history would prevent access to a health care facility. Please call (509) 682-6660 for more information.
To explore occupations and find related career information, go to www.mynextmove.org.